August 5th 2015
16 Ways To Upgrade Your Bathroom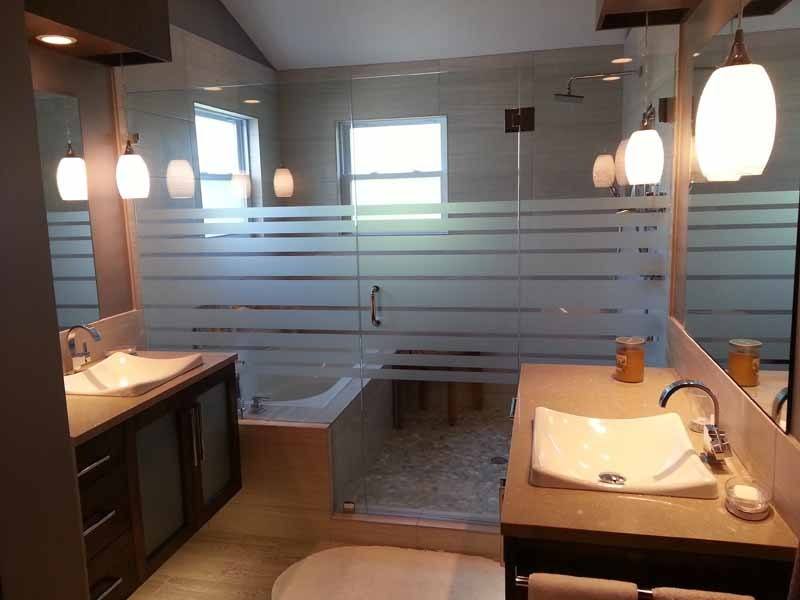 Of all the rooms in your home, the bathroom definitely ranks up there with the most personal of all. And when it comes to home remodeling, the master bath is where you have plenty of latitude for including personal touches and features. Especially if your home's exterior falls victim to the "Johnson County Beige" plague, customizing the interior will be even more important.
If you are planning to upgrade your bathroom, think about adding a few or all 16 of these ideas to take your project to the next level. From the practical like a frameless shower door to the decadent such as a chandelier over a spacious tub, these ideas are what make the difference between a conventional bathroom remodel and an extraordinary one.
Elevate even the most practical bathroom projects to a phenomenal level
A floating bathroom vanity
Replacing a bathroom vanity is a common part of a remodeling project. Instead of opting for a floor vanity, consider having a floating vanity installed. Floating vanities can make a bathroom appear larger because it opens up space between the floor and the vanity's bottom. You can use the area underneath for storage. Plus, spot lighting can be added to illuminate the space for a beautiful touch.
Smarter bathroom storage
Adding bathroom storage is a top priority for many homeowners. Storage doesn't have to stop at practical; it can be smart and decorative too. By mixing open and closed storage, you can add focal points to the bathroom and still have easy access to all of your personal items. Open storage can showcase pretty items and closed storage can hide your most personal ones. Storage is practical by nature, but frosted glass inserts, roll out cabinets (like those used in kitchens) and other solutions can make it an interesting addition to the design.
Frameless glass shower doors
Contemporary bathroom remodel designs incorporate frameless glass shower doors for a clean and modern look. But there is functionality behind a frameless door since the edgeless design makes entering and exiting the shower easier. Frameless shower doors do not have the bottom edge, which means there is nothing to trip over.
Seating
Every other room in your home has seating. Why not the bathroom (toilet withstanding)? Adding a chair, ottoman or even a cushioned pillow on a window seat or a ledge, gives you a comfy place to dry off or just relax. Adding bathroom seating is one of the easiest ways to add comfort to the space.
Natural skylight and window lighting
Thanks to limited wall space, bathrooms are notorious for being "light" on natural lighting. Due to the high moisture levels in bathrooms, it's important to choose high-quality windows to avoid condensation problems. If wall space or a view of your neighbors hinders adding or enlarging windows, a skylight can be installed. Sky windows that can be open and closed are an option if ventilation is wanted or needed.
Decadent touches to turn your master bath into a spa-like experience
Luxurious showers
Many of the same features you'd find in luxury spa showers are available for home bathroom installations. Everything from dual showerheads, adjustable height showerheads, handheld showerheads and body sprays to a shower bench can take your shower to a spa-like experience. Just be prepared for longer showers and double check that your water heater size is big enough to handle the extra demand.
Heated towel bars
Endure a freezing cold day in Overland Park, by wrapping a warm towel around you after you shower or bathe in January. Need we say more?
Tile accents
Floor tile is a staple of many a bathroom remodeling projects. But to take your bathroom up a notch, consider taking the tile up the wall, to the backsplash or even up to the ceiling. Beyond the glamour factor of a tiled bathroom wall, tile is durable and easy to clean. Color tiles, glass tiles and a variety of other tile materials offer an affordable way to make a big design impact, just like the spa.
Tile "art"
Create a pattern. Add a splash of color. Incorporate an artistic design that personalizes your bathroom space. On the floor or on the wall or in the backsplash, anywhere you can lay tile… it's possible to add "art."
A steam shower
For a true spa experience, install a shower that doubles as a steam shower with a tightly sealing door on all sides to keep the steam in the shower area. Your bathroom remodeling pro will add a vapor barrier to protect your sheetrock and walls, along with the equipment needed to heat the water to steam temperature. Best thing? You'll never need to make a spa appointment again.
A sound system
The Zen, new-age music playing subtly in the background at a spa is calming and relaxing. Bluetooth connected to your music library is just as easy to have in your bathroom as it is in any other room of the house. It can be as technological as installing a state-of-the-art sound system or as simple as tucking a small bluetooth speaker in a storage area. Either way, music in the bathroom is a proven way to rejuvenate and relax.
A chandelier
Strategically placed to catch the light or above the whirlpool or soaking tub, is anything more glamorous than a chandelier? Chandeliers come in many sizes and styles so there is one to match your bathroom's size and ambiance. And not all chandeliers have hanging crystal accents, so even a "manly" or contemporary bathroom is a good match for this type of lighting.
Splurge-worthy, indulgent and well-deserved bathroom upgrades
Radiant heat flooring
You imagined wrapping yourself in a warm towel on a cold winter day. Now imagine doing so while your feet are toasty on radiant heat flooring. This is an indulgent bathroom upgrade, but well worth the comfort if your flooring is a cold material like tile or stone. Since we have cold weather for at least five months here in Overland Park, radiant heat flooring can be used a good percentage of the year, thus a worthy investment.
A fireplace
The look. The warmth. The glow. A fireplace in your master bathroom is a beautiful thing. A double-sided fireplace can be installed between the master bath and master bedroom so that it can be viewed from either room.
An entertainment center
Watch the morning news headlines, traffic and weather while you get ready in the morning. Relax watching a movie from your tub. Both practical and splurge-worthy, having a television installed during your bathroom remodel is a decision you won't regret. There are low-voltage, water-resistant televisions with water-resistant remotes designed for installation in high moisture areas like bathrooms.
A whirlpool or soaking tub
While showers are the daily norm, there are days that just call for a long, hot bath. Whether your idea of the perfect bath involves soothing jets or a simple soak in your favorite bath oil or bubbles, a tub is a necessity for many homeowners remodeling their bathrooms. Today's tubs come with various bells and whistles, as well as deep depths for soaking only.
Finally getting the bathroom you've always dreamed about
Including some of these fabulous features in any other room in the house might be a bit pricey. But when added to the comparatively smaller space of the bathroom, these upgrades are more than worth it. Not to mention wonderfully indulgent.
As with any home remodeling project, the quality of the work depends on choosing a quality contractor. Built by Design is an award-winning remodeling company based in Johnson County, KS. Have a question about bathroom remodeling? Want to know if your idea to upgrade your bathroom is feasible? Interested in a remodeling quote? Our home remodeling pros are here to help.