November 18th 2013
2014 Home Remodeling Trends In Johnson County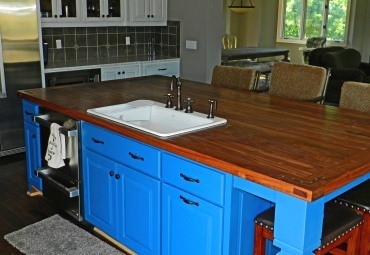 Paint a room in the Pantone Color of the Year (it's "Dazzling Blue" for Spring 2014, by the way). Scatter a few new throw pillows around. Change the rugs. Install some new lighting and faucet fixtures and you've got yourself a refreshed and updated home. Ahh, if only it were that easy!
Changing the look and feel of your home isn't quite as simple as that, but sometimes it's going to take unique inspiration to get the look you're craving but haven't yet identified. And that means a full home remodel. Most of the homeowners we meet with for a remodeling project bid already have a pretty good idea of what they'd like the remodel to accomplish: update an older home's floor plan, add additional living space, bring kitchens and baths into this century (1987 called and wants its brass fixtures and "oak everything" back) or tailoring materials and spaces to your unique lifestyle.
Getting inspiration is easy.
Taking a look at the "trends" and seeing how they'd work in your home and for your lifestyle has never been simpler. Magazines are fantastic. As are the new home design apps like Houzz. But nothing beats seeing a trend in real life with your own eyes. It's much like haute couture. What models wear on the runway just doesn't translate to the real world; however, it doesn't stop you from adding style elements to your wardrobe.
Wintertime here in the Kansas City area is the season of home shows. Built By Design will be at the major home shows in Overland Park and downtown Kansas City. Feel free to stop by and pick our brains on home remodeling concepts and ideas. Have an idea that you're not sure can be pulled off? If there's a way, we'll be the ones to figure it out. We don't like to tell homeowners, "That can't be done." But we're also not the types to make big promises that we can't keep in the end, which is disappointing when you've got your heart set on something.
We don't like to tell homeowners, "That can't be done."
Come spring, check out the Parade of Homes, remodels and new home construction are open to the public from morning to night. Again, these are great examples of the hottest trends going.
Next time you're driving by a new subdivision, swing by and scout out the model home.  About the only thing you can't see from the drive by will be the flooring options. That and the home entertainment systems they've implemented (check out Homedia Solutions if that's what you're in to). They're open to the public and you can walk through at your leisure. These model homes are prime examples of current trends. And let's face, how many opportunities do you get to walk through brand new empty homes? Without a real estate agent breathing down your back or opening cabinets without making your friends and family feel violated?
An updated kitchen is always trendy.
If you're worried about following the latest design trends, there could not possibly be a better time to invest in a full kitchen remodel. Why?  Because you really can't go wrong with whatever design you go with right now, or in the near future, unless you decide to move the kitchen upstairs and put your master bedroom in its former space. What was trending for kitchen remodeling projects in 2013 is still applicable as we roll in to 2014.
The thing about trends is that they are rarely ever new. And when they are, it's new materials that lead the way—like granite for countertops. Trends come and then they go away for many years. Eventually, they circle back for a new generation of homeowners who think they're a completely new concept.
Well, 2013's kitchen trends haven't even had a chance to retire to the back of the line (somewhere just behind avocado green) just yet. Open floor plans and clean, contemporary lines are still in demand and will be for some time. As we stated last year, "kitchen design is leaning toward streamlined functionality, subtlety and openness to create more kitchen space." And the kitchen trends from 2013 still apply in 2014.
Kitchen cabinetry: painted cabinetry is still popular, while oak and darker woods are losing favor. Contemporary frameless and inset cabinet doors match the streamlined, clean aesthetics of 2014 (and 2013).
Kitchen appliances: induction cooktop prices are coming within budget of many homeowners, while stainless steel is further kicked out the door for cabinetry-style and hidden fronts that blend in.
Granite countertops: granite isn't going anywhere as the countertop of choice anytime soon. Other materials like quartz are an option, but as far as trends go, granite is the clear choice.
Backsplashes: yep, still tile. Glass tile, ceramic tile, cool tile patterns, but always tile.
If you've held off on a full kitchen remodel waiting for the next major design trend, you may be waiting for quite some time. As you well know, the housing industry is just now recovering from quite a slump.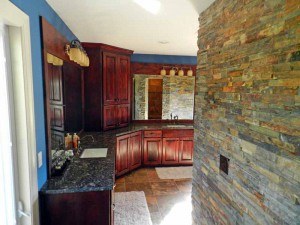 Homebuilders are trendsetters.
Homebuilders, as far from "fashionable" as they are, are trendsetters. What they build as the "new now" often sets homeowners' expectations for remodeling projects. After having their new homes sit on the market, builders aren't willing to take a chance on trends quite yet, especially just when homes are starting to sell again.
The good news in all this is that it's nearly impossible to choose a kitchen remodel design that will go out of style within the next few years. So if getting rid of that mauve and golden oak kitchen is your goal, go for it. But if you're waiting to remodel with a cutting-edge design, you still have plenty of time. If you're ready for the home of your dreams, give us a call today.
The kitchen, basement or bathroom remodel of your dreams is just a click away!