March 30th 2016
The 5 "Hautest" Kitchen Renovation Trends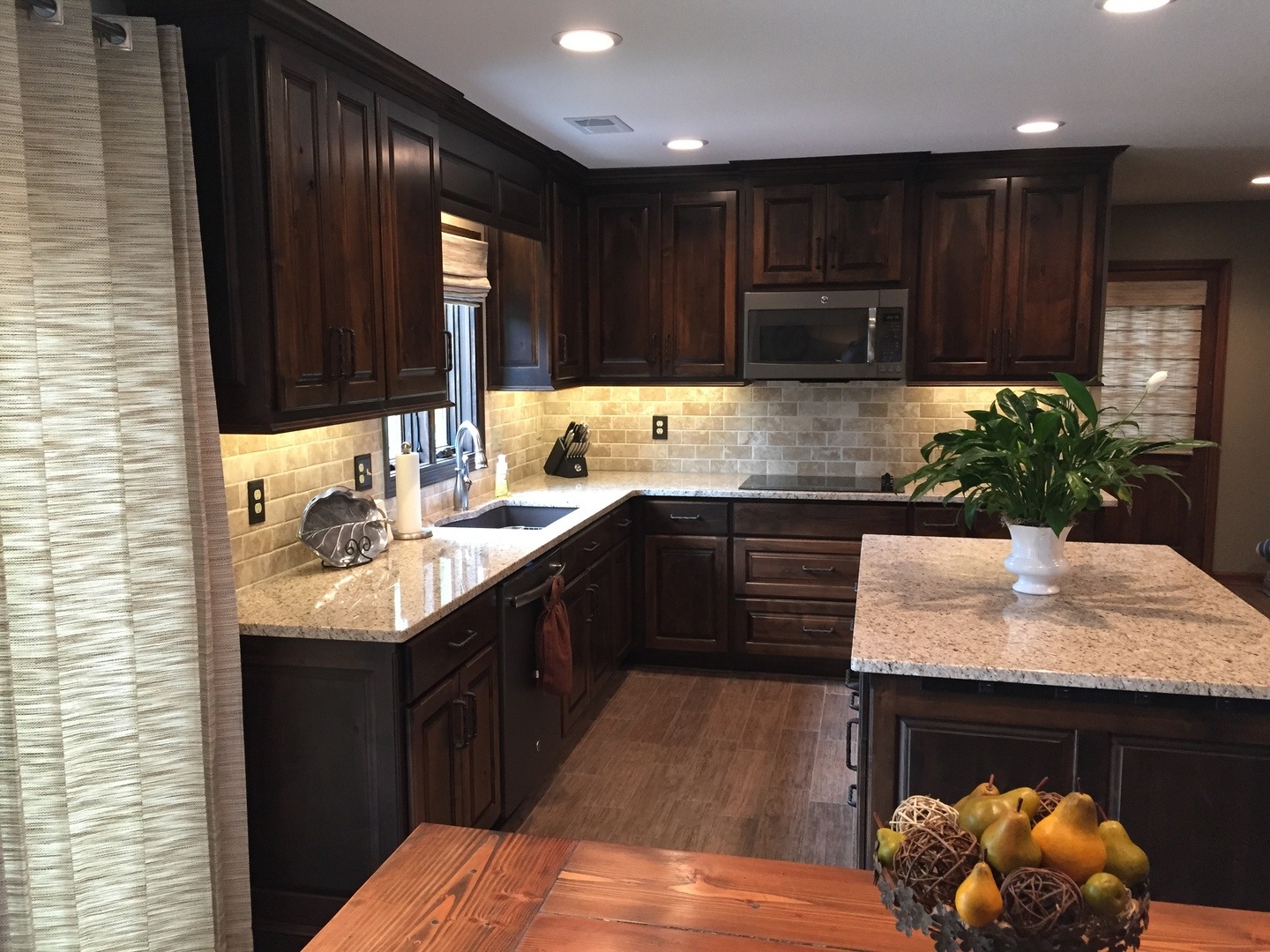 There is nothing more satisfying than a successful kitchen remodel that brings one of the most used rooms in your home out of past and into the present. You want to create a look that is not only unique to your style and preferences, but also on target with the hottest designs in the industry. If it's been a while since you underwent a kitchen renovation or this is your first time, you can find inspiration in our list of the five "hautest" kitchen renovation trends for kitchens in Johnson and Jackson County.
White is NOT the New Black
While white remains the absolute top color for kitchens everywhere, it is slowly being pushed aside in favor of softer palettes. One of the newest, top trends in kitchen renovations is replacing the standard white with more neutral colors that are less saturated. This includes tinted whites, mutual pastels, grays and even charcoal tones on everything from backslashes to cabinets and floors. Side note: the Midwest is still a natural wood kind of place, so even though softer colors are trending across the country, you'll still see a lot of wood in Overland Park kitchen renovations.
LED Lighting
One of the best upgrades for modern kitchens can be found in LED lights. Not only are they more energy-efficient, but they also emit practically no heat. In addition to their safe and efficient design, they also come in a variety of colors and style options.
As one of the best upgrades for modern kitchens, designers everywhere are amazed at the ingenuity of LED rope and cove lights. Homeowners are no longer settling for plain old ceiling lights, and instead are lighting up their kitchens with low-voltage light tape strips inside cabinets, above cabinets, below cabinets, below countertop overhangs, along baseboards, concealed in crown molding and more. LED lighting is being used as or to highlight design elements.
Open Floor Plans
Another one of the top trends in kitchen renovations includes integrated living spaces. Renovation is an opportunity to make your old, disconnected kitchen space more accommodating to your lifestyle. For many families, that means a lot of kitchen time. Streamlined kitchen designs where the home's primary living space converges with the kitchen are becoming the norm. Even homes built with compartmentalized floorplans can be upgrades to open plans during a renovation.
Smarter Spaces
Kitchens everywhere are being redesigned to incorporate a wealth of smart technology. As one of the absolute best upgrades for modern kitchens, designers say that the quintessential kitchens of 2016 will have a major focus on providing convenience via smart appliances and setups.
From designated areas for smart devices and state-of-the-art appliances to touch faucets and easily accessible appliance design, convenience is guiding kitchen renovation designs.
Eco-Friendly Design
Finally, eco-friendly design is one of the top trends in kitchen renovations. From biodegradable countertops to energy-saving appliances, best upgrades for revamped kitchens include environmentally conscious materials. Whether it is touch faucets that shut themselves off, reclaimed wood flooring or cabinets or smart appliances that reduce energy consumption, kitchens everywhere are becoming more eco-friendly all around.
If you are thinking about remodeling or renovating your kitchen, these latest trends are a great starting place for inspiration. Whether you are looking for some simple upgrades like adding LED lights or some more extensive remodeling ideas, such as incorporating an open floor plan, these are some of the best ideas for motivating unique design ideas based on the top trends in kitchen renovations.
Located in Johnson County, Kansas, Built by Design is the full-service remodeling contractor of choice for discriminating Kansas City metro homeowners from Olathe to Gladstone and everywhere in between including Leawood, Mission Hills, The Plaza and Lee's Summit. We're renowned for carrying your lifestyle and personality throughout every room of your home. Since remodeling is a personal and financial investment, you want a remodeling company that does things right the first time. When you're ready to upgrade or completely renovate your kitchen, count on Built By Design to give you the "hautest" kitchen in your neighborhood.