May 18th 2015
5 Things To Consider Before Finishing A Basement In Johnson County
Ah, the basement of your home. The place where you threaten to send your children when they're overly rambunctious, where you hide the holiday decorations, and where you are pretty sure a village of raccoons are nesting away for the winter. What if your basement could become something more than a place where store away those old sports participation ribbons? Well it can be, but first it will take some work and planning on your part. There are a number of things you can do with this unused (but valuable) space of your home, but you will need to find the right Johnson County home remodeling company to help.
Here are a few things to consider when thinking about remodeling your basement – straight from the pros.
1. Do You Work From Home?
For most business owners in the 21st century, finding a way to add more convenience to their workspace situation is the holy grail of quests. With the advent of virtual offices, working from home is now easier than ever. If you work from home, why not turn your basement into an office space? This will allow you to get some time away from the distractions of home life and get to work. Be sure to speak with an award-winning KC remodeling contractor to get some unique ideas on how to maximize basemen space for home office use.
2. Do You Need A "Toy" Room?
Another great way to use basement space is by making it a toy room for your children. Now, if that won't work you may need to consider a full on garage addition…but this will allow you not only to give them their own space to play in, but it will keep you from falling over Lego blocks during that midnight bathroom run (or at least reduce the risk). In order to reduce the amount of toys on the floor in your new space, you can ask the Kansas City basement finishing company you have hired to develop some unorthodox organization concepts. By coming up with fun and functional ideas like this, you will be able to make this space special for your children, and every other kid on your block. Be forewarned- your basement remodel may just become the "hang out" spot.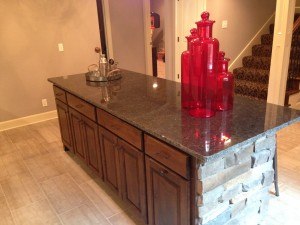 3. Trying To Increase Your Home's Value?
One of the biggest reasons a homeowner decides to finish or remodel the basement is due to the value it can add. If you are looking into selling your home, you may want to think about investing in sprucing up this space. Usually, next to kitchen and bath remodels, basement finishing offers the best return on investment. When you consider the appeal and value it can add to your home, it is well worth the money you pay. If you plan on staying in your home for a while, ask your contractor about upgrades and such. If the basement remodel is simply to add value, don't go overboard on the unique features. Remember, you may find a cedar-lined sauna appealing, but the buyer might not being willing to pay for one.
4. Do You Need A Man Cave?
In some cases, the argument that Batman had a cave and so should you will work when trying to get your man dwelling built (just make sure that your wife doesn't read this post on the subject). For the most part, men are territorial beings, which is why a man cave is so important. A basement is a perfect spot for this type of room due to the space and the distance it puts between the man and anything unmanly. Plus, it can be the perfect place to hide a hideous, ripped up recliner from the ol' college days. Out of sight, out of mind. Or it can be a point of shining pride and congregation central for friends and family because you have the "coolest" basement of anybody around. It might also have something to do with needing the Ultimate fan experience for Game Day in your man cave.
5. Do You Have A Good Local Remodeler?
Another important thing you have to consider when choosing to remodel your basement is the company you will use. Johnson County, Kansas has a variety of companies from which to choose, and so some research is required on your part to help ensure you work with a reliable and experienced contractor. Ideally you want to find a company who has the right mix of experience and value to perform the work for you – like us (just a random example). Especially if you own a high-end home. Nobody uses the latest trends and highest-grade materials with precision like we do.
Our experience in finishing and remodeling homes in Johnson County could fill a book. And this is what you're looking for in a contractor. Someone who thinks of everything and asks lots of questions, giving you the end result that you want. Our favorite comment once the work is done is, "Wow! This is better than I could have ever imagined." And you know what? We hear that more often than one might think…