June 21st 2017
7 Indulgent Add-ons Your Master Bath Needs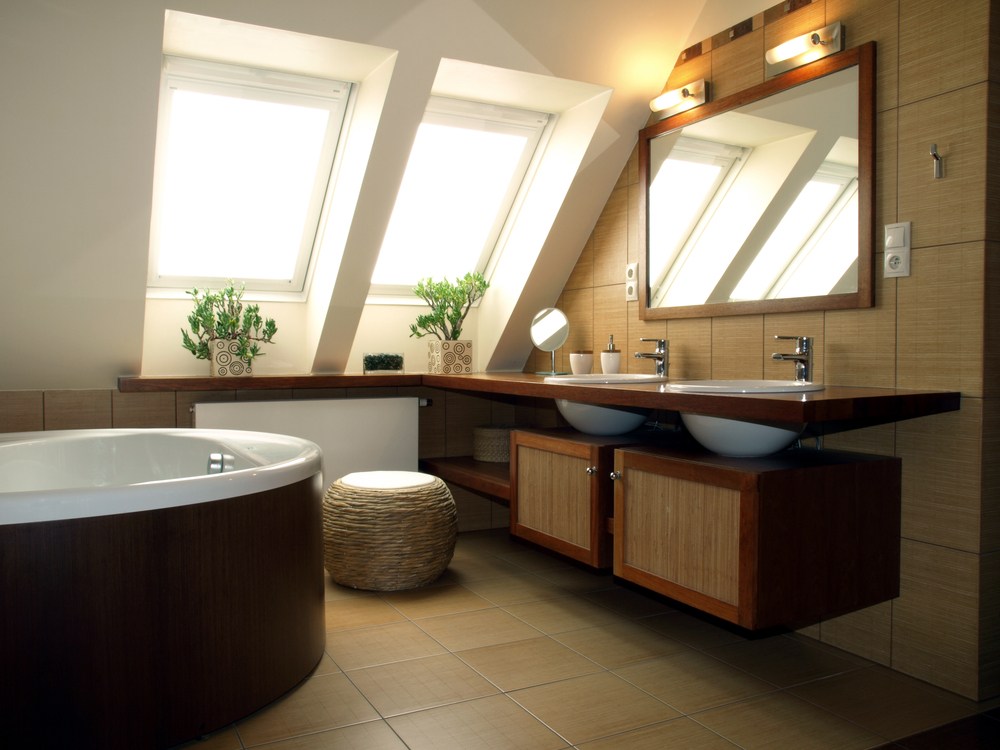 Of all the rooms in your home, the bathroom is the most personal of all. And when it comes to home remodeling, the master bath is where you can add the most personal touches and features. Especially if your home's exterior falls victim to the "Johnson County Beige" plague, customizing the interior will be even more important. If you are planning to upgrade your bathroom, think about adding these 7 luxurious and homey touches.
1. Floating Bathroom Vanities
Replacing a bathroom vanity is a common part of a remodeling project. Instead of opting for a floor vanity, consider having a floating vanity installed. Floating vanities can make a bathroom appear larger because it opens up space between the floor and the bottom of the vanity, and can double as storage space. Plus, spot lighting can be added to illuminate the space for a beautiful touch.
2. Smarter Bathroom Storage
Adding bathroom storage is a top priority for many homeowners. Storage doesn't have to stop at practical; it can be smart and decorative too! By mixing open and closed storage, you can add focal points to the bathroom and still have easy access to all of your personal items. Open storage can showcase pretty items and closed storage can hide personal ones. Storage is practical by nature, but frosted glass inserts, roll out cabinets (like those used in kitchens) and other solutions can make it an interesting addition to the design.
3. Natural Skylight and Window Lighting
Thanks to limited wall space, bathrooms are notorious for having little natural lighting. Due to the high moisture levels in bathrooms, it's important to choose high-quality windows to avoid condensation problems. If wall space or a view of your neighbors hinders adding or enlarging windows, a skylight can be installed. Sky windows that can be open and closed are an excellent option if additional ventilation is needed.
4. Heated Towel Bars
Even though it's summer, think back to the middle of winter. It's the middle of January… a freezing cold day in Overland Park… and you stick your toe out of the hot shower. You're expecting that wall of ice cold air to hit you, and instead, you wrap yourself in a fluffy, warm towel.
5. Tile Accents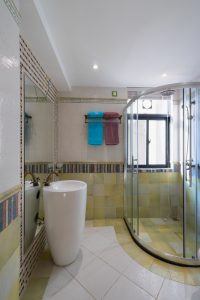 Floor tile is a staple of many a bathroom remodeling projects. Take your bathroom up a notch and consider putting tile on the wall, to the backsplash, or even up to the ceiling. Beyond the glamour factor of a tiled bathroom wall, tile is durable and easy to clean. Color tiles, glass tiles and a variety of other tile materials offer an affordable way to make a big design impact.
6. Steam Shower
For a true spa experience, install a shower that doubles as a steam shower with a tightly sealing door on all sides to keep the steam in the shower area. Your bathroom remodeling pro will add a vapor barrier to protect your sheetrock and walls, along with the equipment needed to heat the water to steam temperature. Best thing? You'll never need to make a spa appointment again.
7. Radiant Heated Flooring
You imagined wrapping yourself in a warm towel on a cold winter day. Now, imagine doing so while your feet are toasty on radiant heat flooring. This is an indulgent bathroom upgrade, but well worth the comfort if your flooring is a cold material like tile or stone. Since we have cold weather for at least five months of the year here in Overland Park, radiant heat flooring can be used a good percentage of the year, and is a worthy investment.
Finally Get the Bathroom You've Always Dreamed About
Including some of these fabulous features in your bathroom is sure to transform the master bath into your favorite room in the house. As with any home remodeling project, the quality of the work depends on choosing a quality contractor.
Built by Design is an award-winning remodeling company based in Johnson County, KS. Have a question about
bathroom remodeling
? Want to know if your idea to upgrade your bathroom is feasible? Interested in a remodeling quote? Our home remodeling pros are
here to help
.