Built by Design Awards & Honors
Remy 2014 Remodel of the Year: Bath Remodel $30k – $60k – Silver
Our client not only wanted, but desperately needed, to update their master bath. The existing bath was cold, cramped and didn't meet their needs. Above all else, they wanted a spa-like space that worked for both of their busy careers but didn't break the bank or move outside of the original space constraints. Earth tones were used throughout the master bath; from the hardwood-look flooring, the dark stained vanities, the shower tiles, to the coffee colored walls. By working closely with the clients, we were able to incorporate all the modernization they wanted with sleek, affordable design and materials.
---
Remy 2014 Remodel of the Year: Whole House Remodel under $250k – Silver
Our client purchased a real fixer-upper and had quite a long list of changes/additions they wanted. In the overall scheme of things they wanted a farm house feel throughout, quartz counter tops & a walnut island top in the kitchen, a fireplace in the master bedroom, stone accents, expanded laundry room, additional bed/bathroom upstairs, hand-scraped hardwood floors, and everything must conform to a very strict budget. Our open communication style, dedicated subcontractors, and attention to detail led to the amazement of our client and the successful completion of this vast project.
---
Remy 2011 Remodel of the Year: Kitchen Remodel Under $40,000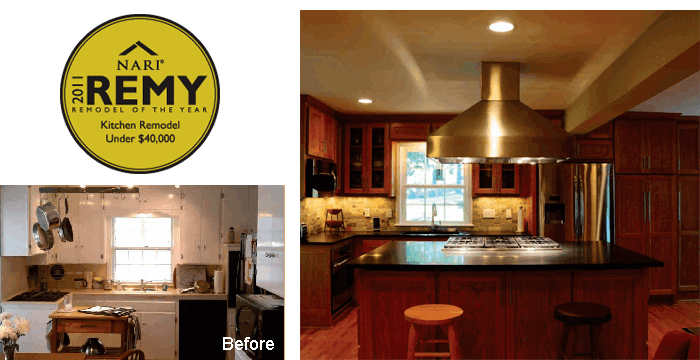 Clients often ask for more space and storage in a kitchen remodel and judging by the 1980's layout of our client's home, they were no exception. Sure enough, topping their list of needs was opening up the entire first floor of their home. The main living level consisted of a small kitchen closed off from the living room, dining area and no storage anywhere. Their vision of the future consisted of more space and storage in a user-friendly kitchen, higher quality cabinets, designated work zones and an open floor plan that was better able to meet the needs of their family.
---
Remy 2011 All Star Winner: Lower Level Finishes Under $50,000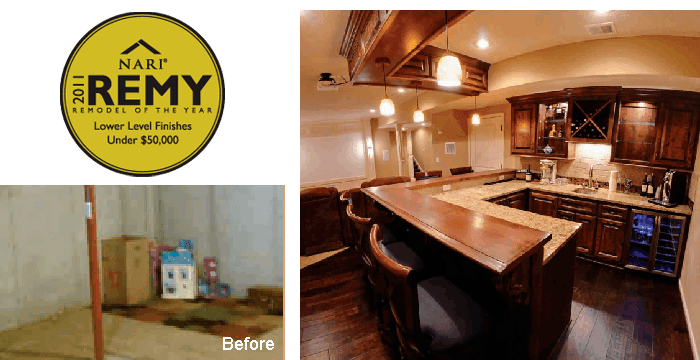 "We want the moon, but on a moon rock budget." That was the challenge we were presented with at our first meeting with our future clients: just how much bang could they get for their buck in this basement finishing project. Items on their bucket list included a ¾ bath, office with ample storage, theater area with big screen and a "keep them coming back" wet bar.
---
Remy 2009 Remodel of the Year: Bath Remodel Under $30,000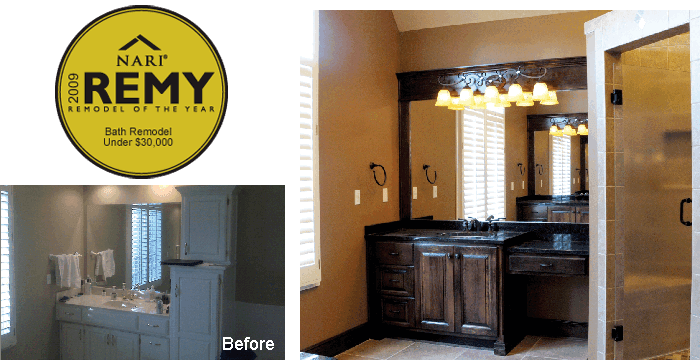 A marriage of form and function was elegantly created in this outdated master bath, giving the homeowners an abundance of storage while utilizing the existing square footage to accommodate their remodeling budget. Designing a beautifully tiled walk-in shower for the space once occupied by a seldom-used garden tub, freed up ample real estate for a custom built armoire complete with accent lighting and furniture-like details. All cabinetry was designed with the client's storage needs in mind and a custom stain was created to bring out the wood's natural beauty, giving the whole bathroom remodel a spa-like feel.
---
Remy 2009 All Star Honorable Mention: Kitchen Remodel $40,000 – $80,000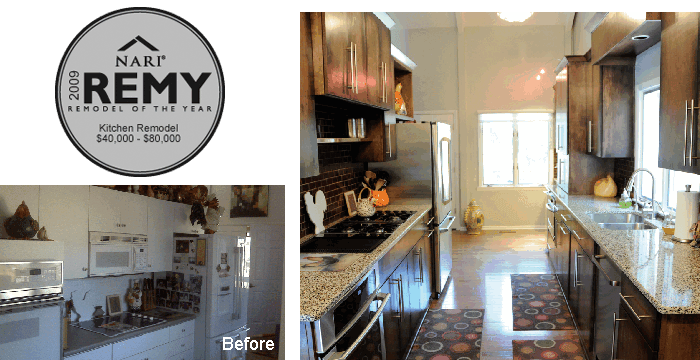 Form meets function. Green elements. No structural changes. The challenge of meeting client needs and wants was met head on in this galley kitchen remodel. Every square inch of usable space was harnessed with solid wood cabinets and functional built-ins. Recycled glass counters give a nod toward the green movement. Attention to every detail from paint and tile colors to cozy pendant lighting, gave this client everything they wanted, while addressing structural issues that couldn't be changed. A cozy gathering place for family and friends, optimal storage and an updated kitchen – form meets function perfectly.
---
Remy 2007 Honorable Mention: Room Addition $100,000 – $250,000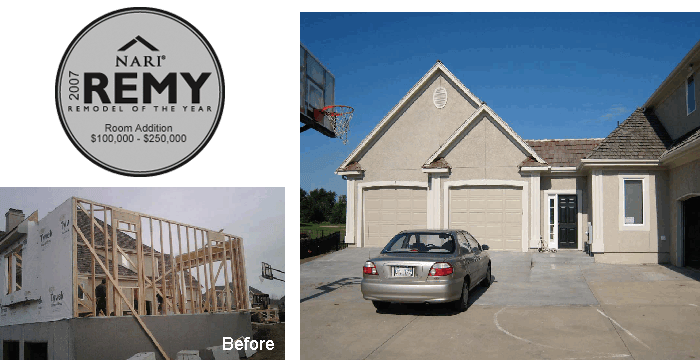 Building a two-car garage addition was the easy part. The challenge came in tucking a pool cabana underneath it to take advantage of the walk-out lot. The use of pre-stressed, pre-cast concrete panels situated on the foundation walls negated the use of support posts and beams – a high priority for the client. We were able to create the only 5-car garage on the block while giving the client a unique cabana design fi lled with urban touches and high-tech gadgets. Form meets function: another more than satisfied client.
---
 KCH&G 2007 Silver Award Winner: Best Kitchen Remodel $40,000 – $70,000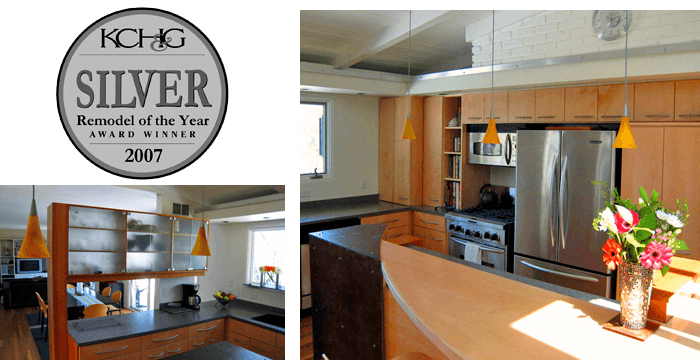 This Overland Park kitchen remodel took an outdated kitchen and turned it into a modern, functional and streamlined kitchen worthy of praise. The architectural layout that the homeowners chose created more counter, storage and entertaining space for the family; however, a challenge they ran into was adding three sky lights in the dining room, right off of the kitchen.
Some attic space was taken to install the sky lights, along with precautions to make sure they were positioned correctly, had sufficient support and didn't leak. An oversized picture window was added above the sink, Avonite solid surfaces for the countertops, and cabinets were updated with a combination of maple and cherry. Metal accents accentuate the refrigerator, sink and island, and a wood plank ceiling with faux beams help preserve the home's original character. The fireplace was removed to create room for additional pantry storage, but they kept some of the original white brickwork surrounding it.