October 15th 2013
Does Bathroom Remodeling Really Increase Your Home's Value?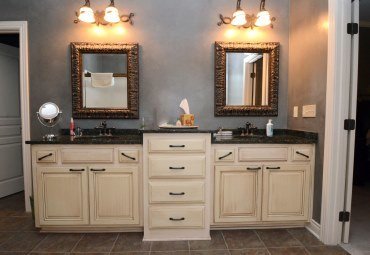 In a nutshell, yes. Most good bathroom remodelers will be able to increase your home's value  easily. According to the latest cost vs. value reports, a bathroom remodel will return approximately 15% more than your original investment. In other words, if you spend $15,000.00 on your bathroom remodeling, you can expect to recoup $18,750.00 when you sell your home.
All things being equal, a bathroom remodel will help sell your home quicker than comparable homes without one.
In the grand scheme of home remodeling, 15% may not sound like the best project on which to spend your hard-earned money.  But home remodeling companies are quick to point out that a project like this doesn't just create ROI in dollars, you get the value of actually
enjoying
your bathroom again! Also, with home prices, construction costs and the market in general stabilized, the cost-value ration has increased across the board. A
custom kitchen remodel
and basement finishing top the cost vs. value list, along with exterior improvements, but a good remodeled bathroom also adds value.  If it's been ignored, it will stand out when you go to sell.
For many homeowners considering a remodeled bathroom, the decision boils down to more than just the numbers. After all, your home is your castle and you're probably going to live there a while if you're even considering a remodeling project. And this is where the personal value comes into play as mentioned above. The joy and satisfaction that comes from enjoying a bathroom you really want shouldn't be underrated. A bath can be a sanctuary, a place to relax and unwind and let's face it—a place for pampering and much-needed "me" time. There is value in that. Yes, your enjoyment has value.
Of course, you need to keep in mind high-end fixtures and super unique features are far less likely to meet the cost-value 15% return mark. While steam baths, heated tile flooring and other luxury touches are fantastic, the next owner may not share that view. What appeals to you won't appeal to everyone so you need to be prepared for that, return on bathroom remodeling investment wise.
All things being equal, an updated bathroom will help sell your home quicker than comparable homes without one. Not only does remodeling a bath sell a home faster, but it also speaks to a buyer about your upkeep and care of the home. Buyers will assume that if you cared enough to invest in a bathroom remodel, that you also put that same effort into maintaining other areas of the home. That means fewer problems for buyers to worry about down the road. You've established an expectation with buyers that you cared about your home, setting their minds at ease.
When it comes to increasing a home's value, adding additional living space (square footage) is a clear winner. Adding an additional bathroom will increase the home's square footage, which returns a higher percentage of your investment compared to remodeling existing space. If increasing value is your goal, consider an addition bathroom if you have the space. Basement finishes are the obvious place to add a bathroom since it's convenient for you and guests. Who wants to be running up and down the stairs to use the bathroom during the big game or a movie night?
If you're looking for a premiere Overland Park remodeling company, give us a call!  We specialize in high end home remodels, basement remodeling and full custom kitchen remodels all over Overland Park, Olathe and Shawnee, Ks!