New Home Construction & Home Builder in the Kansas City Metro- With An Emphasis On Style & Quality
Built by Design specializes in both — stylish, quality new home construction in the Kansas City and Johnson County areas. Sometimes it takes more than a kitchen or bath remodel or a basement finishing to create the perfect home for you. When that's the case, new home construction is the way to go. And it's how many of our home construction projects began…
---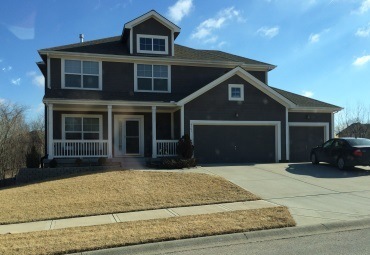 H
omeowners impressed with our remodeling work from the past call Built by Design when it's time to start from scratch. We work with their architects to design the floor plan and with you to customize your home while staying within your budget and timeline, which can be critical when selling one home and moving into your new construction.
With Built by Design, You'll Feel You're Our One and Only Client
Anyone who's built a home from the ground up can tell you how stressful the new construction process can be, especially if they've chosen the wrong Kansas City or Overland Park home builder.
Built by Design isn't your ordinary home builder. We limit the number of new construction projects we take on each year in order to give each client the time and respect required to build your home right. Not cheap as possible. Not using inferior, sub grade materials and fixtures. We take as much pride in our construction work as you do in your home. And that's why homeowners who demand quality go with us.
Is Built by Design the Right Kansas City Home Builder for You?
We're not a wham slam, slap homes together new home construction company. We've found many homeowners put more time into researching televisions than their home builder. We've also been called on to fix poor construction a mere year after the home was built, we do it right the first time and take the same approach to our kitchen remodeling, bathroom remodeling, new room additions, and basement remodeling as well.
If you're the type to invest in quality, Built by Design is your type of homebuilder.
We obsess. We think things through. We cost a little more. But that means you'll have a well built home that will stand the test of time. Something a lot of new construction can't and won't do today.
Where Do We Start?
Whether or not you've already chosen an architect, your estate lot or even the location, it doesn't matter to us. We're professionals willing and able to step in at any stage of the process, and we have. We've walked our clients through every step from beginning to end and we've come to the rescue when things ran off track.
Just like our new home construction work, we customize it to you, your needs, where you're at, your experience. And it may sound like a minor point if you've never worked with a builder before, but Built by Design returns calls always and fast. We answer questions correctly. We are here and personally involved, each and every part of the process.
Quality new home construction starts with a simple email or call.