February 8th 2014
The Smarter Way to Plan for an Absolutely Stellar New Room Addition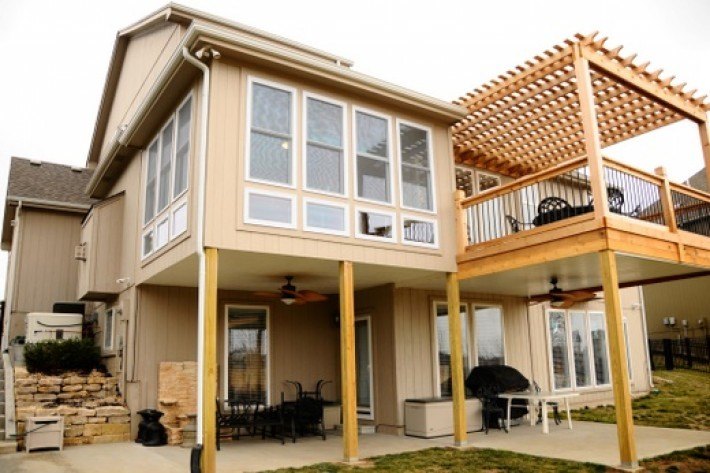 You love your neighborhood, schools, community, and heck, even your neighbors. What comes to mind first when you don't have enough space or you want a completely new area is building on a room addition. And that's a great idea since room additions are far more affordable in most cases than packing up and moving. Put the sledgehammer down for a minute and let's do some room addition brainstorming first.
Location Matters – Even Inside Your Home
While it might sound silly, the first question to ask is why do you want the extra square footage? Will the room addition be an extra bedroom, a bigger kitchen, a master suite, in-law quarters, family room or hobby area? Visualizing exactly how you'll use the space helps you decide the best place to put a room addition. You have two options: building up or out. The room addition's purpose often makes that decision for you. Meaning, you're probably not going to want to add a bedroom off the kitchen, but it does make sense to add it to the second floor along with the other bedrooms. Building up it is then. Building out, not so much. Not knowing the answers to these next questions can stop your room addition project in its tracks. Of course, it's best not to do that mid-construction.
Understand Codes And City Ordinances
Where is it legal and logical to add your new room? Make certain you know and understand city ordinances and homeowner's association rules and regulations applying to easements, lot lines and building lines. For example, how close (25', 30', etc.) can a room addition be from the street? Verify the same for the backyard? How much backyard space are you required to keep? Easements are especially important because there can be utility lines, sewer pipes and the like buried, which prevent you from building over certain areas of your property. And it's different for every city in the KC Metro. Then there are your own systems to map out. Take HVAC for example… your air conditioner can be moved to another side of your home, but that bumps up the cost to do so. The same goes for the ductwork, gas line and utility meters.
Blend In (With Your Existing Home…And The Neighbors)
Blending a room addition to match the rest of your home is a given. Otherwise, your new room addition will look like it belongs on any other home but yours. The next buyer will choose a home that matches over yours that looks pieced together. Blending an addition requires you to keep costs in mind for your overall budget. When adding on to an existing space (kitchen, baths, bedrooms, etc.), the original space will need remodeling work in order to match the new addition, especially if you own an older home with older fixtures and materials that are difficult (if not impossible) to match today. The exterior must be blended to match as well. Again, depending on age, some roofing shingles and exterior siding materials could be hard to match. In that case, the look must be complementary.
Last, but not least, neighbors can be a wild card in the room addition planning process. Even the friendliest and easy going-est neighbors can get a little antsy over new construction. As long as you're within your easements and boundaries, you're legally fine. However, you should be prepared for some "neighborly" questions, advice or downright protests. That being said, if the neighbor relations are already on shaky ground and you don't plan on staying in your home for a long time, perhaps it's a wiser idea to put your new room addition money toward a new home with the extra space already built in.
Get A Binding Bid And Not Just An Estimate
Getting an estimate is a given.  Getting a binding quote from a local remodeling contractor isn't. Unfortunately, many in our profession choose to give low-ball estimates and then jack up the price along the way as you get into the project, knowing full well that you're "invested" and that you won't back out. Built By Design operates differently. We'll be the ones who are "invested", and we prove it by taking the time to fully scope your project. We'll then provide a binding bid, no strings attached.  Ready for that new sun-room, extra garage or basement remodel? We're just a call or click away!