December 29th 2016
The Top 10 Kitchen Design Trends for 2017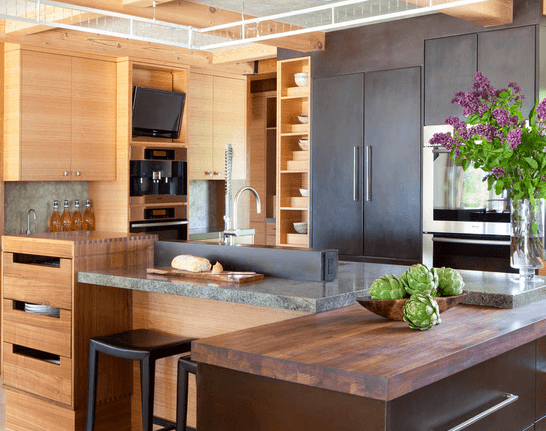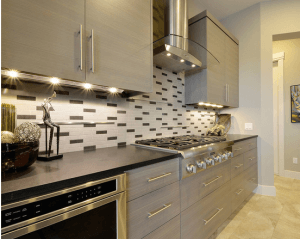 Your kitchen is the heart of the home, the main focal point of the whole house, and new kitchen design ideas can be a very exciting way to freshen up this space. We at Built By Design are already seeing the following new kitchen trends:
1.
Gray Cabinets Over White
The last year saw its fair share of stunning white cabinets in kitchens, with contrasting black counters, but in 2017 gray cabinets are predicted to be an even more popular option. Homeowners are now looking for more kitchen accent colors as well as contrast.
2.
Blending a Contemporary Look with Your Style
Homeowners are mixing contemporary décor with traditional looks to give their home an updated, yet cozy feel. Clean architectural, straight line faucets, and flat-front wood veneer cabinets mixed with traditional features create a timeless, versatile appeal. If you don't want your kitchen to look too "trendy," this would be a great way to meet in the middle.
3.
New Colors Available for Quartz Countertops
Quartz stone is one of the top preferences for countertops right now and will continue to grow in popularity because of its competitive soft rock look, low maintenance function, heat protection, and scratch resistance. The best part about this choice is the ability to pick between multiple neutral shades rather than being limited to one set of color tones.
4.
Black Steel Faucets and Bold Fixtures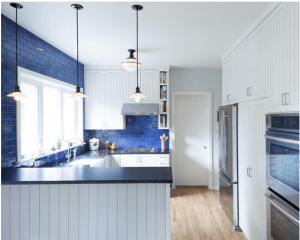 The industrial look is back on top in 2017. You'll see more kitchens with faucets in a new choice of finish: black. Rose gold and copper are slowly moving out and darker rubbed bronze fixtures are now taking the spotlight! Big, bold, oversized light fixtures in the kitchen have also become a prominent part of kitchen design as homeowners seek to create a sense of depth and drama.
5.
Expanding Kitchen Storage
More and more homeowners are designing their kitchen based around cabinet storage and functionality. Good news for you, manufacturers are now cleverly offering new storage options for kitchens like multi-tiered drawers and larger cabinets. These storage solutions mean you don't have to sacrifice square footage for excellent storage.
6.
Mixing Textures
We are excited to see more mixed materials in 2017, for example, mixed countertop materials in a kitchen. One of our favorite mixes is granite or quartz countertops and a butcher block top island. This combination is a fantastic way to add visual interest and an updated look.
Other popular choices include marble countertops with a deep walnut island, reclaimed wood mixed with concrete, and natural stone countertops paired with a maple island. This 2017 trend will be a great opportunity to show your personality and enhance your kitchen!
7.
Classic Farmhouse Sinks With Color
The farmhouse sink trend is predicted to not only stay a classic addition to your kitchen, but it's expected to continue to rise in popularity even more with new kitchen designs. In 2017, you'll see more farmhouse sinks with a twist. These apron-front sinks now come in all sorts of different colors and hues. As popular as white and stainless steel have been, homeowners are starting to choose colorful sinks to add a great pop of color in the kitchen.
8.
Graphic Tile Pattern Backsplash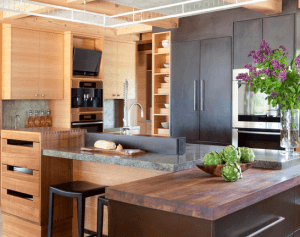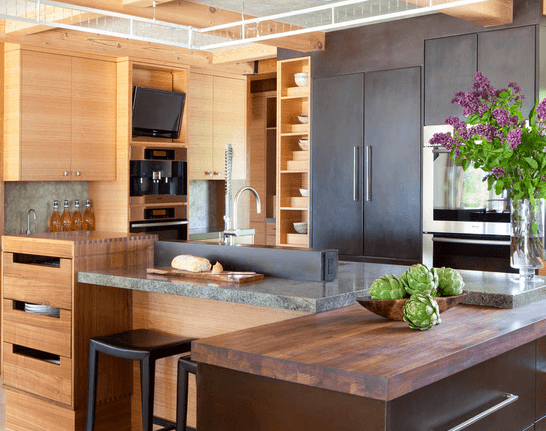 Different shapes and colors will be a huge change from the white subway tile trend. You can still pick a neutral color (there are many more available now) but the newer, geometric shaped patterns combine a timeless look with a touch of color.
9.
Charging Stations
This technology-driven world has made it the norm for homeowners to add more outlets and charging/docking stations to their kitchen as a simple convenience. The easy access and functionality of this popular trend makes it an attractive option for homeowners updating their kitchen in 2017
10.
Kitchen Automations
Along with charging and docking stations, you'll see more kitchen add-on automations including; sensor-activated lights, under cabinet lighting, hands-free faucets, and technology that you can easily connect and manage from your smart phone!
Does your kitchen need more than
just refreshing
? Learn more about how you can revitalize and recreate your kitchen in 2017 by
contacting us
.