May 28th 2013
Upgrading Your Bathroom from 1990 to 2013
If you did bathroom remodeling or bought a home built in the 90's, it's time to introduce your bath to the 21st century.  Let's review the 1990's-style of bathroom. A 90's bath is blinding. It has shiny brass (well it may not be so shiny after all these years) with an overkill of white on white.
There are white tiles around the tub and along the shower walls. A single white marble vanity with two basins spans one side of the bath. Above the white vanity, canned lights shine down. Women know light from above casts some dark shadows on the worst areas imaginable, especially under the eyes, making creating a tired look. Women who live with 90's bathrooms think they have under eye circles when it's really just the lighting.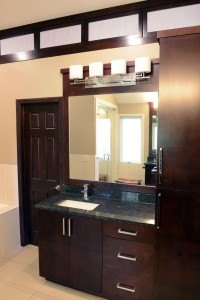 The toilet and shower are given their own separate room space. Shower doors have brass frames. Usually a rarely used, garden-variety tub occupies a huge amount of prime bathroom real estate. Carpet flooring is scarred by years of misfortune. Hair color stains. Make up splatters. The red cough syrup spilled trying to get a child to swallow the "yummy cherry goodness." The bleach stain from when the cleaning bottle tipped over. Nail polish stains. You name it.
The brass, white on white and startling overhead lighting almost makes you wanna party like it's 1999 doesn't it? Not so much anymore?
It's time to upgrade your bathroom to 2013. The 21st century bath features granite countertops on stain-grade cabinetry. Vanities resemble furniture with legs instead of run of the mill toe kicks. The vanity could be floating 6-8" inches off the floor.
Darker oil rubbed bronze fixtures glow versus the gleam of brass. Wood framed mirrors add character where plate mirrors once hung. Those canned lights are gone and flattering wall sconces take their rightful place. Goodbye under eye circles. Hello gorgeous and handsome.
Showers have grown up in size and sophistication too. Shower areas are larger with minimalist glass doors, two hinges, a vertical pull bar and no frame. To accommodate double showerheads, body jets and steam features, the size has increased, sometimes moving into the space previously occupied by a soaking or jetted tub.
Tile flooring has replaced carpeting, making clean freaks everywhere happy. There is a mind-blowing range of tile materials on the market now in a variety of colors. The majority of them are designed for long-lasting wear if maintained and installed properly.
For privacy and comfort, the toilet still deserves its separate space. However, 2013 bathroom remodeling brings better ventilation with exhaust fans vented to the outside, not the attic, which can cause moisture problems.
Finally, personal touches like heated towel bars, flooring and lamps turn master baths into a spa quality experience.
A 2013 bathroom sounds absolutely delightful doesn't it? If so, it's time for a bathroom remodeling project.